Frankincense Frankincense

(Oman, Somaliland, Ethiopia)
Category:

Poverty Solutions

Location:

Oman, Somaliland, Ethiopia

Date:
Location:

Oman, Somaliland, Ethiopia
Why Oman, Somaliland, and Ethiopia?
Our Frankincense essential oil is a proprietary blend from four different Boswellia species of Frankincense resins: Boswellia Carterii, Boswellia Papyrifera, Boswellia Frereana, and Boswellia Sacra. Different Frankincense trees thrive in different environments and soil types. For example, Boswellia Carterii trees grow best in sandy soils, while Boswellia Frereana trees grow best in dry, rocky terrain. Boswellia Frereana trees also produce the largest size resin tears of the Boswellia species. We source from multiple locations to ensure that we are harvesting resin from the place each of Boswellia tree species grows best.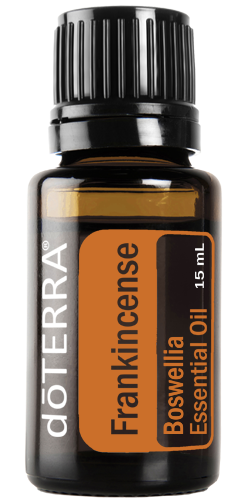 Often called the "king of oils," Frankincense promotes feelings of peace and overall wellness when used aromatically, while topical and internal uses provide modern health benefits.*
How does it work?
Frankincense has been a valued trade commodity since ancient times by the Egyptians, the Assyrians, the Persians, the Macedonians, and the Kushites. These precious resins comprise what is believed to be the world's oldest global supply chain.
The essential oil comes from the resin of the Frankincense tree. Resin "tears" are carefully cleaned and organized by size and color before distillation—this is usually done by women.
In Somaliland, our Frankincense comes from the Sanaag Region of the Cal Madow Mountain range. Approximately one-third of Somaliland's population lives in this region, and Frankincense harvesting is the main source of employment. The trees are passed down through generations, and individual harvesters have access to specific regions by tribal right.
Normally, the resin is harvested, sold to shopkeepers (who then sell it to middlemen and consolidators,) and eventually arriving at a port for export. Unfortunately, this system often takes advantage of the harvesters, who end up being paid the lowest wage for some of the hardest work. Instead, we go directly to the people who harvest and sort the Frankincense resins. We have even contributed significantly to the construction of warehouses built throughout the mountains where these resins are collected, sorted, and stored—again primarily by women, which provides important value-add employment opportunities in these very remote areas. These warehouses function as more or less a cooperative, organizing harvesters and shopkeepers into a network. This provides improved transparency, fairness, employment opportunities, and security for those participating in the supply chain and adding the most value.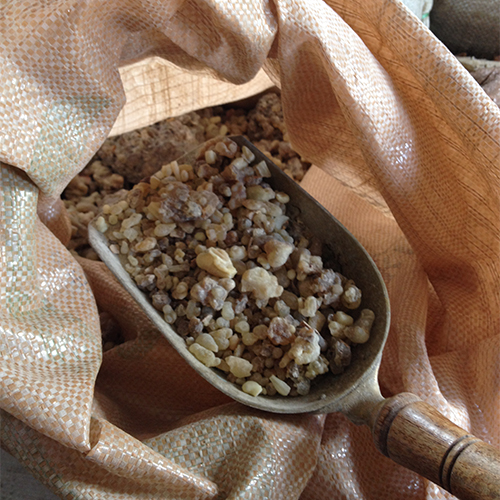 Fair and On-Time Payments and Environmental Stewardship
Our Co-Impact Sourcing Initiative for Frankincense resins provides harvesters with fair wages and on-time payments (including food and cash prepayments spread out during the year) by working around the layers of middlemen and instead working directly with those who harvest and sort the Frankincense. This arrangement provides a much more stable and reliable income to Frankincense harvesters.
Additionally, we are proud to support research and sustainability initiatives to protect Frankincense trees. Over years of harvesting Frankincense resin, many of the trees have become overharvested. This means that the trees have too many cuts or cuts that are too deep. The research and initiatives we are supporting aim to ensure that the trees and ecologies thrive and continue supporting communities and livelihoods.
Healing Hands
The doTERRA Healing Hands Foundation (dHHF) has assisted the efforts of leaders from multiple Clans, or patrilineal groups, in Uurwayne, Somaliland, who united with the goal of providing education for their children. HHF donated toward a school constructed for boys and girls, ages 7 through 12, with classes for older children in the evening. Approximately 120 children from 16 villages have attended the school, with an additional four-classroom school constructed to help 100 more students from other areas have increased access to education.
For more immediate aid needs, in 2017 a severe drought left more than 6 million Somalians, half the country's population, devastated due to dying livestock and failing crops. doTERRA promptly responded to the crisis by donating over $1.5 million dollars' worth of emergency drought relief food packages and supplies to support 4,000 families in 32 of the villages most severely affected by the drought. Furthermore, two schools that dHHF previously built served as drought relief centers for these communities during the crisis.
Most recently, dHHF has donated more than $3 million for the development and construction of the Sanaag Specialty Hospital, which upon completion in early 2020 will be the first functioning health care provider of its kind in the severely under-developed Sanaag region of Somaliland. Access to professional healthcare in the area is not available, forcing many locals to travel very far distances or forgo medical help all together. This new hospital will provide access to life-saving services to tens of thousands of people living and working in the heart of Somaliland's resin harvesting area.
dHHF is also actively supporting and funding clean water initiatives in Ethiopian harvesting areas, which has been an urgent need for these harvesting communities.