Lemongrass Lemongrass

(India)
Category:

At the Source Farmer Farmer Social Impact

Location:

India

Date:
2022 Sourcing Impact
Total Lives Impacted: 12,383
People Empowered via Sourcing Jobs: 2,172

Lives Supported by Sourcing Jobs: 9,991

Lives Impacted through Social Impact Projects: 2,392

A favorite oil for massages, Lemongrass provides a pungent, smoky aroma, and offers purifying and toning benefits for the skin.
Why India?
Lemongrass requires little groundwater, so it grows quite well in many parts of India. Additionally, by sourcing Lemongrass from India, we are able to support small-scale farmers there.
Go Behind The Bottle
Meet Rukin. After her husband died, she became the sole provider for her family. She harvests lemongrass that becomes pure, powerful essential oil to support her family members and send her sons to school. Join Jared Moon, strategic sourcing manager, and Bishnu Adhikari, director of Co-Impact Sourcing, to learn more about how partnering with farmers has changed lives.
The Harvesting Process
Lemongrass is a perennial grass and is usually harvested four times per year. During the harvest, the grass is cut to the ground, left to dry in the field, then collected the next day. (Lemongrass is cut by hand using sickles.) When the grass is collected, it is tied into bundles, put in an oxcart, and then driven to the distillation facility. Lemongrass that has already been steam distilled for the essential oil can be used to fuel the distillation.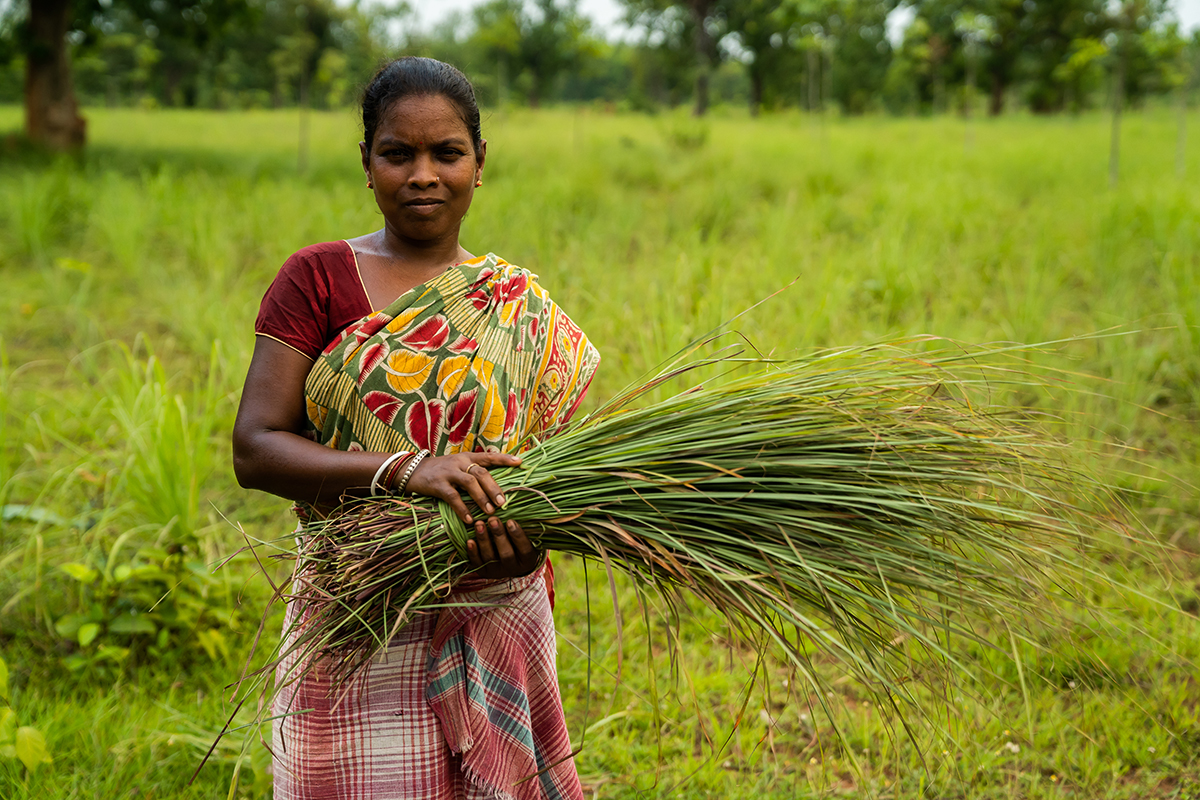 Our lemongrass is grown by small-scale farmers in India. The average farmer has 3 acres. While some of these farmers continue to grow crops like wheat, potatoes, and rice, diversifying their crops with lemongrass is more profitable. Because of lemongrass's high-value, it offers farmers an opportunity to increase their income without increasing the amount of land they work.
People Empowered: Building Supplier Capacity
In India, we are working with Farms and Farmers—an NGO that helps smallholder farmers to improve their livelihood by increasing their income from agricultural activities. Among their numerous projects across India, they are working with smallholder farmers to introduce high-value crops (particularly lemongrass) to their land. This is done by suppling seedlings, setting up nurseries, facilitating trainings, and providing farmers with market opportunities, especially for new crops they introduce.
In 2017, Farms and Farmers, in partnership with doTERRA and our primary distillation partner in India, began offering training to new and existing Lemongrass growers and distillers, easy access to markets, instant payments through mobile applications, and field visits from Field Officers and experienced farmers. With this additional support, many growers began earning nearly four times per kilo of oil what they were making on other crops—and with instant payments. This additional support also positively affects the quality of Lemongrass oil produced by farmers, so they can earn even more per acre. In 2018, doTERRA donated the means to establish a community-run distillation unit in Mayurbhanj, which will save many farmers both time and money.
Our partnership with Farms and Farmers is helping smallholder farmers in India increase their income through expanded capacity, improved farming techniques, increased yields, improved efficiencies, and strengthened productivity. With the added income from working with a value-add crop like Lemongrass instead of, or in addition to, traditional crops, farmers are able to earn an income that raises them out of extreme poverty.
Communities Served
The doTERRA Healing Hands Foundation has supported the communities of lemongrass farmers and harvesters through initiatives including school bathrooms for girls, and women's health training and kits for 500 girls through the Days for Girls organization.