Pink Pepper Pink Pepper

(KenyaPeru)
Category:

At the Source

Location:

KenyaPeru

Date:
2022 Sourcing Impact
Total Lives Impacted: 798
People Empowered via Sourcing Jobs: 148
Lives Supported by Sourcing Jobs: 538
Lives Impacted through Social Impact Projects: 260

A sacred tree to the Incans, Pink Pepper essential oil is distilled from the fruit of the pink peppercorn tree, which was used by indigenous people as herbal solutions to health needs.
Why Peru and Kenya?
Pink pepper trees are native to northern Peru. It grows wild high in the Andes Mountains. The pink pepper tree can adapt to a variety of soils, so it's been planted in many areas of the world. However, it flourishes in warm, sunny climates. In Kenya, pink pepper trees have been thriving for decades.
Sourcing Pink Pepper from both Peru and Kenya provides extra economic opportunities for harvesters and their communities. In Kenya, agriculture remains central to the economy, even as their dynamic private sector expands. The fertile soil, varied landscapes, and 12 hours of daylight throughout the year make Kenya an ideal location for numerous crops. Along with Pink Pepper, we source several essential oils from Kenya through Co-Impact Sourcing® initiatives, including Geranium, Ginger, and Tea Tree, with more in trials.
The Production Process
Pink Pepper essential oil is cold-pressed from the berries (also known as peppercorns). Harvesting these berries isn't easy, as pink pepper trees grow approximately 50 feet tall. Harvesters climb the tree to pick the peppercorns or knock them with a stick to later collect from the ground. The berries are cleaned by removing the twigs and leaves and put into a crusher for distillation.
Empowering People: Fair and On-Time Payments
To ensure small-scale farmers receive fair and on-time payments, the team in Kenya uses a mobile app called Farmforce to organize and manage the farmers and their processes. Farmforce was developed in Kenya to streamline traceability in farmer network, documenting harvests, payments, and quantities purchased for each farmer.
We partner with Fairoils, an organization that hires locally based field officers to visit each farmer. Using Farmforce, the field officers can weigh raw materials on the spot and provide payment within 24 hours at a previously agreed price. The whole process is accessible on the app, remaining transparent for both parties. The farmers always know the weight and price per kilogram at the time of payment, and receipts are stored in the app. The Fairoils field officers also train and coach farmers on how to grow the highest quality and quantity of crops.
Before this type of software was possible, many farmers grew sugarcane for a company that overcharged them for inputs (like fertilizer) and services (like harvesting). Bills often came as a surprise to farmers. Furthermore, the company typically paid them months later, making it difficult and complicated to plan income or budget.
These past negative experiences initially made it difficult for some farmers to trust a new company and technology. Older farmers were particularly hesitant to trust the software. But after using Farmforce, reaping recent harvests, and enjoying positive business experiences, more farmers are choosing to partner with us and Fairoils. And consequently, more farmers are receiving on-time, fair payments.
Impact Stories: Social Impact
The doTERRA Healing Hands Foundation® has funded numerous projects in Kenya:
• The construction of additional classroom and restroom facilities at Kiwegu Primary School.
• The construction of a school library, water storage, staff room, restrooms, and teacher living quarters at Mwamose Primary school, as well as scholarship support.
• The construction of Mwena River Bridge, allowing the community and school children to cross the local river.
• The construction of Majengo Mapya Kindergarten school.
• The construction of a community center.
• Indigenous culture and health trainings for 2,000 school children.
• Colobus Conservation, which educates about and helps with the reforestation of indigenous trees.
• Mwamose Water Point—a community borehole and water tower.
• The Water Maintenance Trust Fund, which does ongoing research and maintenance on community water sources.
Just in 2021, these communities were supported by the following programs and initiatives:
• Days for Girls Kits were given to 250 girls in Mount Kenya.
• A dozen students were supported with scholarships. These scholarships paid for tuition and school expenses in secondary schools.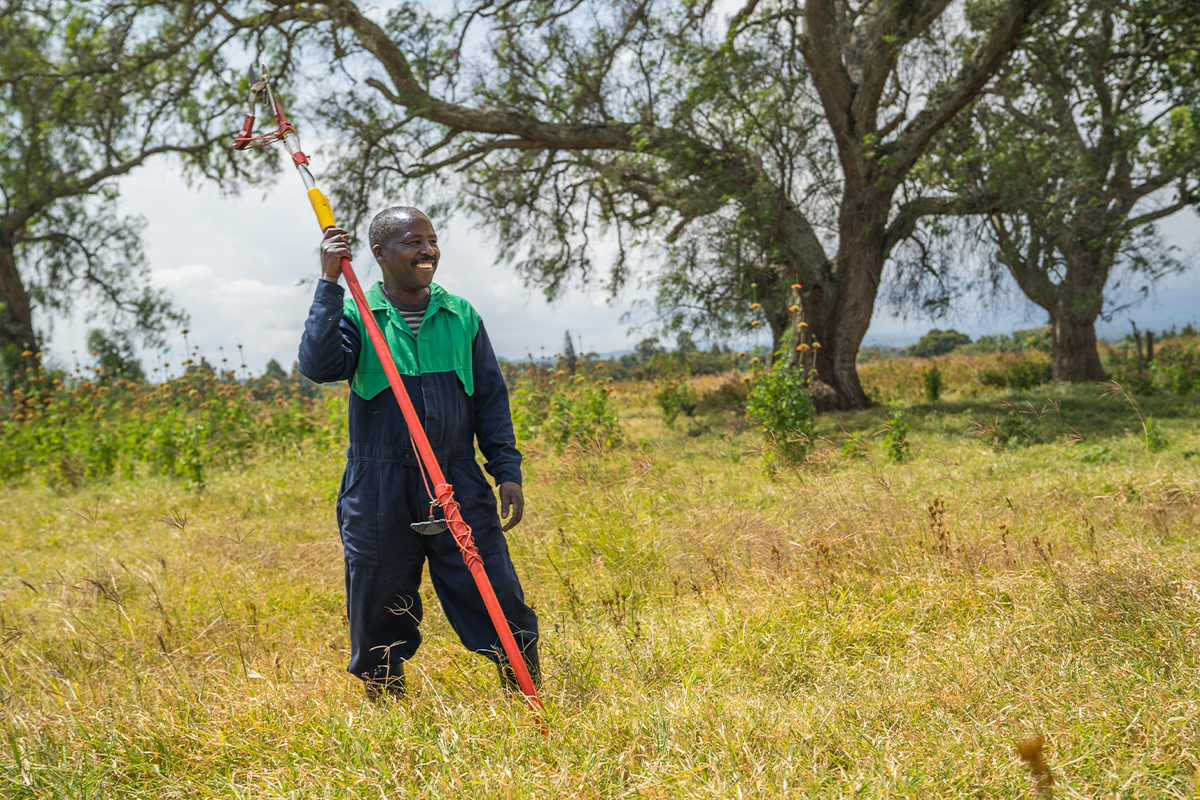 Along with donations from the doTERRA Healing Hands Foundation, we've established a community development fund in Kenya. For every kilogram of essential oil produced by farmer cooperatives, a portion of revenue is set aside in a fund overseen by the cooperatives themselves to finance larger development projects at their discretion.