Wintergreen Wintergreen

(Nepal)
Category:

At the Source

Location:

Nepal

Date:
Why Nepal?
Wintergreen grows in the foothills of the Himalaya, making Nepal and China the sole regions of the world with endemic, wild wintergreen. It thrives in a cool climate with heavily forested areas. We source our wintergreen from Nepal, where we support much needed income streams for harvesters and distillers.

Taken from the rural mountains of Nepal, the soothing and stimulating properties of Wintergreen oil provide a fresh, uplifting aroma.
How does it work?
The essential oil comes from the leaves of the wintergreen plant, which grows between 3 and 9 feet (100-300 cm) high. The leaves are hand collected by harvesters—primarily women—who then transport the wintergreen leaves in a large basket that rests on the back while being held in place by a strap around the forehead. One basket of wintergreen leaves can weigh up to 110 pounds (62 kg). The women sell the raw material to distillers. The leaves soak in warm water overnight before being steam distilled. Next is the distillation itself, which lasts at least 14 hours.
In Nepal, the forests where wintergreen grows are managed by Community Forest User's Groups (CFUG) who oversee wintergreen collection to prevent overharvesting. Harvesters and distillers work with CFUGs to follow management plans that allow harvesters to collect the wild wintergreen leaves in specific areas that rotate each year.
Building Supplier Capacity
Together with our partners in Nepal, we have been active in facilitating supply chain improvement and sustainability programs for Wintergreen. We worked with our partners to develop manuals on proper collection, manufacturing, and testing practices. Then, we implemented trainings on these topics. We've also installed more distillation units in several communities. These initiatives are helping optimize oil yields to make best use of this beautiful natural resource and increase income for wintergreen harvesters.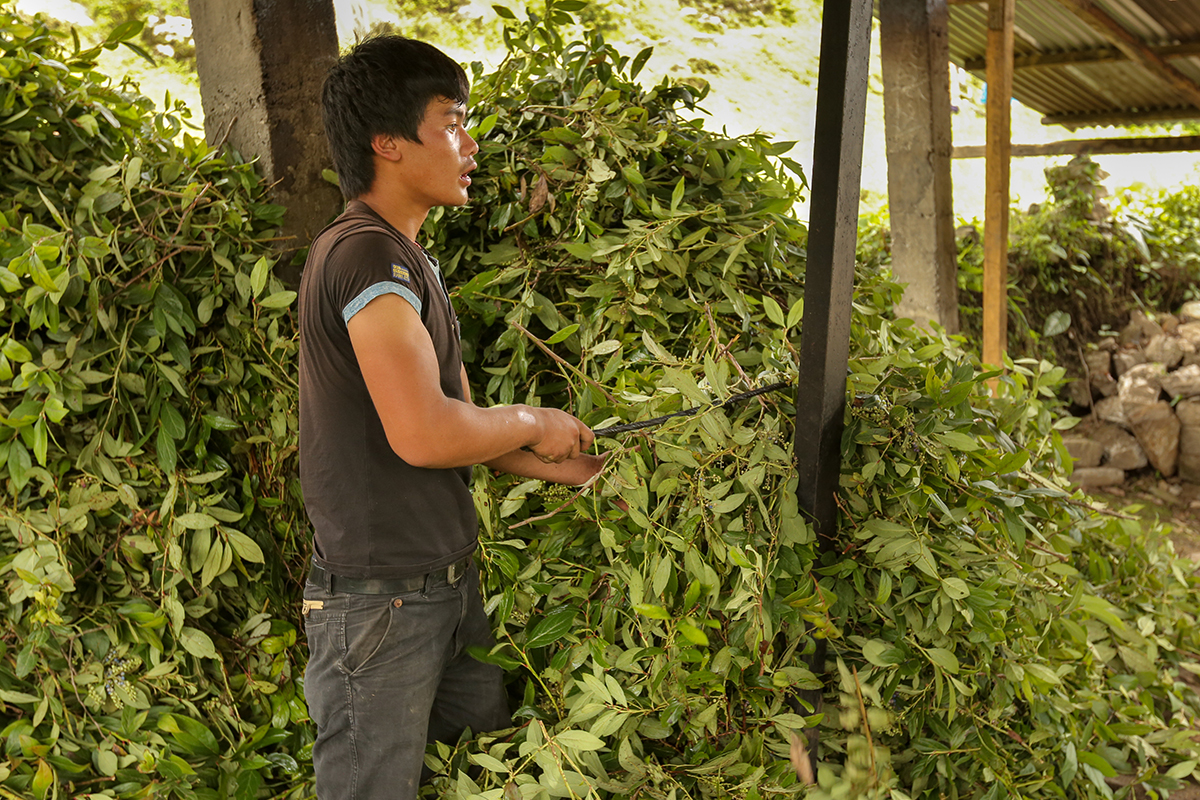 Healing Hands Story
It's been several years since the devastating earthquake in Nepal in 2015, yet many people are still working to rebuild their lives and recover. As of 2019, the doTERRA Healing Hands Foundation has donated nearly two million for earthquake relief aid and community-benefitting social impact projects in Nepal.
In partnership with CHOICE Humanitarian, as well as local government and communities, Healing Hands has supported numerous projects in Wintergreen and Spikenard oil-producing communities. These projects include the construction of Sanskriti Sadan Secondary School (500 students), Sharada Secondary School (700 students), and Gokul Ganga Higher Secondary School (700 students); rebuilding more than 50 earthquake-damaged homes; the expansion of the primary hospital in Palung, Makwanpur (serving over 100,000 people); construction of a new hospital in Rasnalu, Ramechhap; reconstruction of the Agara Health Post; construction of the Veterinary and Agricultural Lab facility as part of the Janakalyan Secondary School in Makwanpur; and installing a water supply system that provides potable water for 325 families and schools in Thaha, one of the country's poorest communities.
Additionally, in partnership with Days for Girls, Healing Hands has funded the distribution of more than 30,000 feminine hygiene kits and accompanying education to adolescent girls throughout Nepal.